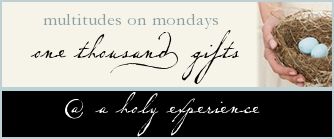 God is in the details. Even when we aren't sure how. He's there.
104. Seeing incremental change.
105. The thanks counted on airplane napkins through missed plane flights.
106. Going home again and seeing treasured friends - both home in NC and home in Ohio.
107. Planning and thinking about skyping with friends missed...
108. Trips to the west,
109. Trips to the north.
110. Time at home with the family.
111. Family reunions. Cousins. Every last one of us getting to be together.
112. Slowing down
113. The lake, popping up from almost nowhere.
114. Laughter, at the simple things, such as interesting backdrops for photos. Thanks for the laugh, Dad.
114. Always You, God, your creation, your goodness, your love, constant.